Yesterday, I had to merge some changes from a SVN branch to another SVN branch. If changes aren't too wild, it's very easy to merge. But if the changes are complex and they change the code in the target branch a lot, merging can be a pain-in-the-ass.
In Windows, I really love working with the TortoiseSVN merge editor. Unfortunately, there's no TortoiseSVN equivalent for Linux/Ubuntu.
After Googling a while, I discovered Rabbit VCS (http://www.rabbitvcs.org/)

RabbitVCS is a set of graphical tools written to provide simple and straightforward access to the version control systems you use.
Currently, it is integrated into the Nautilus file manager and only supports Subversion, but our goal is to incorporate other version
control systems as well as other file managers. RabbitVCS is inspired by TortoiseSVN and others.

I wasn't able to install the package using the package manager of Ubuntu, but if you click "Download", you are able to install a .deb file which installs very easy.
The result is really great. Have a look at this screenshot: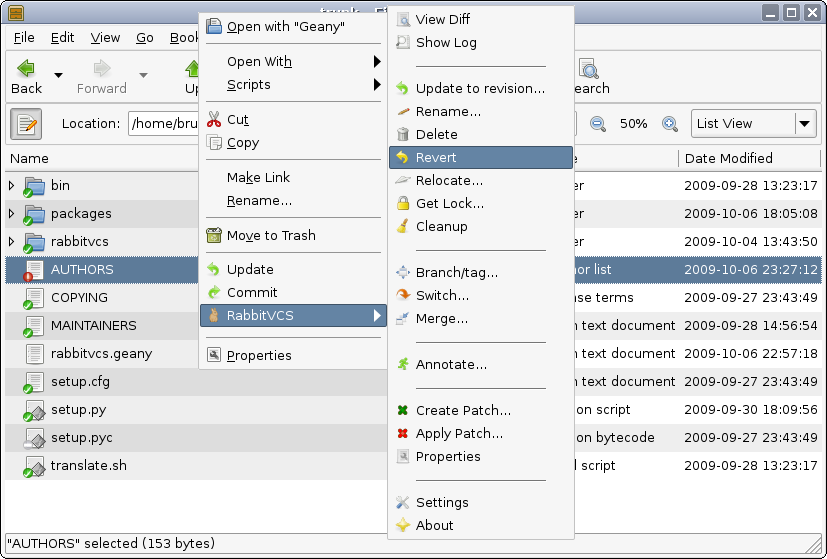 I was using RapidSVN before, but this tool is so much better. It's more user-friendly. It really looks similar to TortoiseSVN. Nevertheless, merging wasn't really easy with tool :-( ... I hope they release a better version in the near future.
Now, I try to merge in Ubuntu using the "Subversive" merge editor in Eclipse (but it's not really what I'm looking for).
Some people recommend me to use KDiff3 (http://kdiff3.sourceforge.net/), but this package is in the KDE base and I'm using Gnome as window manager. Installing KDiff3 will ask to install the whole KDE window manager. And I don't like that idea ...
So, still looking for some good merge editors in Ubuntu. Feel free to drop me a comment if you have discovered some nice tools!